About Mind-Body-World Optometry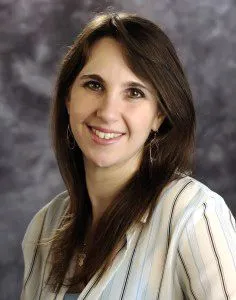 Dr. Samantha Slotnick practices Behavioral Optometry, a holistic approach to vision care. With advanced training as a pediatric eye doctor, she guides visual development to support academic success in her young patients. Her Primary Care Optometry and Vision Therapy practice is in lower Westchester County: Scarsdale, NY.
Dr. Slotnick has a diverse background, with undergraduate roots in behavioral psychology as well as physical chemistry, and post-graduate training in behavioral / developmental optometry and vision science. This dual training in art and science is the foundation for her thorough, balanced approach to patient care, maintaining attention to detail without losing sight of the big picture.
Ongoing involvement in both functional and anatomical vision research is another aspect of Dr. Slotnick's pursuits. After obtaining her doctorate in Optometry from SUNY State College of Optometry, she completed a residency in Vision Therapy and Rehabilitation, also at SUNY, along with advanced studies in Vision Science. She brought a functional perspective to the vision research team at Manhattan Vision Associates Institute for Vision Research. She served as an Adjunct Assistant Research Professor at the SUNY State College of Optometry, with expertise in Spectral Domain Optical Coherence Tomograph (SD-OCT) technology. The combination of her physical optics background and her knowledge of the visual system has supported a range of clinically-based research projects with "high-tech" ophthalmological devices. Among these is a multi-disciplinary SUNY Eye Institute collaboration, funded by the Michael J. Fox Foundation, utilizing SD-OCT technology to explore a retinal biomarker for Parkinson Disease.
An accomplished lecturer and author, Dr. Slotnick leads seminars and workshops on vision training for patients with Strabismus, nationally and internationally. She has contributed chapters to several compilation books, including Vision Therapy: Success Stories From Around the World (Volume 1), and The Power of Lenses. She has also co-authored chapters in professional textbooks, including, Visual Diagnosis and Care of the Patient with Special Needs, and Visual Development, Diagnosis and Treatment of the Pediatric Patient (2nd ed). With advanced post-graduate clinical and academic work, Dr. Slotnick has attained Fellowship in two Academic organizations: The American Academy of Optometry, and the College of Optometrists in Vision Development.
Dr. Slotnick sits on the Peer Review Board of Vision Development & Rehabilitation, the quarterly publication of the College of Optometrists in Vision Development. She is on the organizational board of the Eastern States Optometric Congress, providing an annual educational program dedicated to vision therapy and vision development. She provides independent education and case consultation services via online conferencing. Dr. Slotnick is also an active member of the New York State Optometric Association and the American Optometric Association.
Above all, Dr. Slotnick renders holistic care with dedication and concern for her patients' well being.
For her personal story, click here…
To request Dr. Slotnick as a speaker for your organization, click here...
Credentials and Professional Memberships
Doctor of Optometry, SUNY State College of Optometry (O.D.)
Fellow of the American Academy of Optometry (FAAO)
Fellow of the College of Optometrists in Vision Development (FCOVD)
Optometric Extension Program, Clinical Associate
B.S., Physical Chemistry, University of Rochester
B.A., Psychology, University of Rochester
Certified, Vision Therapy and Rehabilitation
Residency SUNY State College of Optometry
College of Syntonic Optometry, Associate
Association for Research in Vision and Ophthalmology, Member
American Optometric Association, Member
New York State Optometric Association, Member
Beta Sigma Kappa
International Optometry Honor Society
Recipient, Dr. Martin H. Birnbaum Memorial Award
For Outstanding Knowledge and Skills in Behavioral Optometry
Recipient, Foundation for the Development of Humanity Scholarship