"I was very impressed with the comprehensive eye exam and the time Dr. Slotnick took in explaining the findings regarding my vision. I was also interested in the explanation of the difference between sight (the eye) and vision (the brain output). Dr. Slotnick also explained how glasses can help support healthy vision, and that leaving vision uncorrected can cause the eyes to make adaptations that may not be ideal. Thank you!"
--Scott Simonsen, Port Chester, NY
"Dr Slotnick is a great optometrist. I brought my three year old to her and had my own exam. She connected with my son wonderfully and was very attentive to us both. Caring doctor with a great sense of humor. Thank you!"
--Lenny Kundel
From a parent whose 15 year old daughter was just 3 weeks into her vision therapy program:
Dear Dr. Slotnick, I know it's a Saturday, but I just wanted to let you know that Julia actually picked up a book yesterday and read it throughout the afternoon and evening. While she didn't seem to think it was such a "big deal" I was very struck by the fact that she was actually enjoying reading. I can count on my fingers the number of times Julia has done this recently. Working with you is truly fascinating and I hope that what I observed with Julia yesterday is just the beginning of a paradigm shift! Thank you so much for being such an engaging, challenging, and supportive partner.
--Esther

From a patient and parent, after completing a course of vision therapy:
Dear Dr. Slotnick, Thank you so much for supporting Aleah (and all of us!) with your care, expertise, energy and sense of fun. It will be an experience that we will look back on with fondness for the challenges and the triumphs. It certainly has given Aleah a good foundation for learning all round and given specific aid and support to her visual skills. We are LOOKing forward to future development!
Love, from Aleah and Mary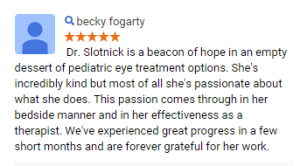 Wonderful - the staff is always very friendly and helpful, as is Dr. Slotnick. They are always happy to see my child and always makes her feel welcome and at ease. Dr. Slotnick is encouraging and accommodating and always creative in her teaching. After visiting an ophthalmologist and optometrist, Dr. Slotnick was the only who could give me an accurate diagnosis for my child. We are lucky to have found Dr. Slotnick!
-- Laurie D, parent of Vision Therapy patient
&
6 stars!
Dr. Slotnick always goes the extra mile when evaluating my eyes. Her knowledge, care, and skill set over the years have been impeccable!
-- Jeff Pinto, primary care patient for 7 years
Once again, Matthew loved his vision therapy session. Since he started therapy his self-confidence has skyrocketed, he is now enjoying group sports, riding his bike, playing with words, enjoying good grades, showing how smart he is and doing his homework in a timely manner. What a difference from 9 nine months ago.
--Ana F, parent of Vision Therapy patient


From an interview with Hope Holiner, an adult patient who had vision therapy for strabismus (an eye turn):
Hope: It still feels miraculous, it really feels miraculous! It's a miracle, yeah! And really, I just really don't have words to describe what it is… I mean, because it's not just seeing, it's not just having depth perception… it's seeing the world differently, in this fuller, more robust way, that's amazing! Yeah. I mean it's a whole experience of the world that's different. It's walking and not just looking at the floor to be sure I'm not walking into something… to actually walking and being interested in what's around me, because... it's more interesting! It's not like looking at a bunch of photographs, which is kind of what vision was like (before). Dr. S: You worked hard for that, congratulations.
Hope: And you. It was really stupendous, so thank you.

From the parent of a teenager with Cerebral Palsy, treated for a large eye turn (up and out):
Jen suffered seizures on and off from age 5 and up until she began eye therapy (at age 17), after which she's NEVER had another. (Jen is now 24.) What was glaringly noticeable to me was that during a seizure and during the postictal state afterwards, Jen's 'wandering' eye was always fixed (locked) in the farthest place the eye wandered to in normal everyday life, and it remained locked that way until the seizure and postictal state were completely over, at which time she'd fall asleep. Upon awakening all would be normal again until the next seizure. It seemed to me that it was almost as if that eye wandered too far and then got stuck there, hence causing a seizure. I only say this because I do not believe in coincidences and my mind instinctively analyzes the connection between the things I see....and what I saw was an eye that clearly wandered back and forth but during a seizure was locked into the turned-eye position. I've always thought it was VERY significant. Once again I want to thank you for your interest and continued support of Jen. Your continued friendship, support and presence in Jen's life has been a blessing. It has made all the difference.
--Kathy P., Jen's mother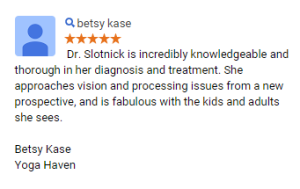 From seminar attendees:
I just returned from a 5 hour seminar with Dr. Samantha Slotnick on strabismus. If you ever have an opportunity to hear her speak, do whatever you need to do to be there. She is awesome and REALLY gets what is important in the therapeutic process. She will rock your boat and cause you to re-examine everything you have ever been taught!
--Linda Sanet, Vision Therapist
Thank you for an incredible three days, the feedback has been very enthusiastic, essentially the attendees felt this has been the best conference ACBO ever provided, and that is due to your insights, passion, and ability to clearly communicate your concepts and experiences.
--Dr. Steve Leslie, Executive Director, Australasian College of Behavioural Optometrists
From colleagues:
Samantha is a caring and sensitive clinician with a wealth of knowledge and experience, especially in the area of strabismus and amblyopia, and she has a great deal of expertise to offer both to her patients and to other clinicians.
--Dr. Bob Sanet
Samantha, it's so good to have you around as a resource for these challenging patients. I look forward to learning more with each one. I feel like you are "boosting my grade level" in the care I deliver.
--Dr. Seth Biser, Ophthalmologist, Mt. Vernon, NY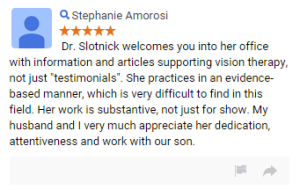 Dr. Slotnick is one of the brightest behavioral optometrists in the nation. She has a wealth of knowledge and caring and will do an excellent job for your child.
--Dr. David Cook, author of

When Your Child Struggles
Bright person, great optometrist, always has a smile on her face.
--Dr. Josef Thiel, Behavioral Optometrist